Why .ac?
A .ac domain name for a localized business
The .ac domain ending is the country-specific domain ending for Ascension Island. This southern island nation, whose capital is Georgetown, is located in the southern Atlantic Ocean and is one of the United Kingdom's Oversea Territories. With 91 km² (35 mi²) and less than 1,000 inhabitants, Ascension Island accounts for only a small number of internet users and websites.
Get an atypical domain name with .ac
Since you can use it as the ending to a short sentence or phrase in several languages, .ac is one of a few popular domain endings for "domain hacking". If you want an original and unique domain name, .ac is a great choice. An unconventional URL helps you make an impression and helps make your domain name easier to remember.
An easy-to-register .ac domain name
Registering a .ac domain name doesn't require any specific formality. This domain ending is actually open to everyone, businesses, organizations, and individuals, and you can easily get a .ac domain name on a first-come, first-served basis. Buying a .ac domain name is especially appropriate if you're planning to get a relatively long domain name, but want to shorten the URL.
Rules and particularities of .ac domain names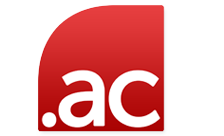 .ac domain names at Gandi.net
Accreditation: Gandi has been accredited .ac since June 2017
Terms and Conditions
Assigning: .ac domain names are open to everyone.
Syntax: from 2 to 63 alphanumeric characters or a hyphen (excluding in the first and last place).
IDN (accented domain names): yes.
Registration period: 1 to 10 years.
Second-level extensions: not provided by Gandi.

Procedures
Renewal: domains are deactivated upon expiration, it is possible to renew up to 45 days following the expiration date.
Disputes: Dispute Resolution Policy
Transfer (change of Registrar): the request is launched from the website of the domain's new registrar. Be sure that you have the domain's auth code (which you must get from the former registrar), that the domain's status is not "TransferProhibited", that the domain was created at least 60 days prior to the request and it does not expire soon. The transfer must be confirmed by email and the registration period is extended by one year.
Change of Ownership: available on our interface, the procedure consists in email confirmation by both former and new domain name owner. The expiration date remains unchanged.
Deletion process: quarantine of 30 days, see this table
Frequently Asked Questions