Why .sh?
A .sh domain name for history buffs
The .sh domain ending is the official domain ending for Saint Helena, the British overseas territory situated right in the middle of the Atlantic Ocean. Sparsely populated, this island is primarily known as the place to which Napoleon Bonaparte was exiled for the second (and final) time. Buying a .sh domain name is an excellent choice for a website related to the island of Saint Helena itself or its history.
A .sh domain name for developers
"SH" can signify several things developers will be familiar with: SSH (Secure Shell Protocol), or BSH (Bourne Shell in Unix). A .sh domain name, then, is also a good choice for IT professionals — both employees and freelancers — who want to highlight their knowledge and expertise through their website. A .sh domain name is also appropriate for professionals looking for work who want to put a portfolio or résumé online.
A .sh domain name is available to all
Anyone can register a .sh domain name, professionals or private individuals, without any particular conditions or restrictions. Unlike traditional domain endings like .net or .com, there is still a wide range of .sh domain names available. That means you still have many choices and you can get the URL that you want, without compromise.
Rules and particularities of .sh domain names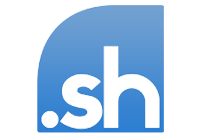 .sh domain names at Gandi.net
Accreditation: Gandi has been accredited .sh since June 2017.
Terms and Conditions
Assigning: .sh domain names are open to everyone.
Syntax: From 2 to 63 alphanumeric characters or a hyphen (excluding in the first and last place).
IDN (accented domain names): Yes.
Registration period: 1 to 10 years.
Second-level extensions: Not provided by Gandi.

Procedures
Renewal: Domains are deactivated upon expiration, it is possible to renew up to 45 days following the expiration date.
Disputes: Dispute Resolution Policy
Transfer (change of Registrar): The request is launched from the website of the domain's new registrar. Be sure that you have the domain's auth code (which you must get from the former registrar), that the domain was created at least 60 days prior to the request and it does not expire soon. The transfer must be confirmed by email and the registration period is extended by one year.
Change of Ownership: Available on our interface, the procedure consists in email confirmation by both former and new domain name owner. The expiration date remains unchanged.
Deletion process: Quarantine of 30 days, see this table
Frequently Asked Questions