Why .xyz?
Where does .xyz come from?
The .xyz domain ending was created as a "true generic" domain ending to address the oversaturation of "traditional" generic domain endings like .com. Shortly after its creation, Google co-founder Larry Page announced the consolidation of Google Inc, Calico, Google Fiber, and other Google spin-offs under a new company — Alphabet — which would use the domain name abc.xyz, in a notable major adoption of a new generic domain ending. Since then, .xyz has found its niche among tech entrepreneurs and others working in the industry.
The .xyz domain ending gives you a universal stature
In 2014, .xyz controlled 17% of the new generic domain ending market. Four years later, in 2018, more than 7 million pages using the .xyz domain ending had been indexed. Its popularity is no longer in question, especially since this domain ending lends all sites that use it a universal quality: it can be used in any geographic area and internationally. That makes it an ideal domain ending for visibility on an international scale.
A memorable domain name with .xyz
Since .com has become oversaturated, you have a greater chance of finding that domain name you want if you look for a .xyz. This domain ending is also easy for any internet users familiar with the Latin alphabet to remember and improves your search engine ranking.
Rules and particularities of .xyz domain names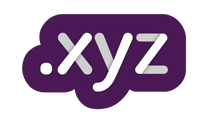 .XYZ domain names at Gandi.net
Accreditation: Gandi has been accredited by XYZ.COM since February 2014
Terms and Conditions
Assigning: .XYZ domain names are open to everyone
Syntax: from 3 to 63 alphanumeric characters or a hyphen (excluding in the first, third and fourth, and last place)
IDN (accented domain names): yes
Registration period: 1 to 10 years during general availability, 1 year during Sunrise and Landrush periods
Second-level extensions: no

Procedures
Renewal:
domains are deactivated upon expiration, it is possible to renew up to 45 days following the expiration date
Disputes:
URS
and
UDRP
Transfer (change of Registrar):
the process is started on the new registrar's interface with an auth code. Ensure that your domain does not have a TransferProhibited status, does not expire soon, is older than 60 days and has not been transferred in the last 60 days. The effective transfer depends on your validation (by email) and renews the domain name for one year
Change of Ownership:
available on our interface, the current procedure consists in email confirmation by both former and new domaine name owner. Expiration date is unchanged.
Deletion process:
quarantine of 30 days, see this
table
Frequently Asked Questions