Why .ca?
Why choose a .ca domain name?
Originally, .ca is the official domain ending for Canada, and therefore it's managed by the Canadian Internet Registration Authority. To acquire a .ca domain name, you need to either be an individual living in or a company registered in Canada. A country of more than 37 million with a healthy economy, Canada may be a significant new market for many businesses that may initially make themselves known online with a .ca domain name.
The reliability and quality of .ca is well known
Canada benefits from a dynamic economy, a high-level of political stability, and a flourishing tech industry and .ca domain names are well regarded across North America and even in Europe. For internet users, a .ca domain name is a guarantee of reliability and they won't think twice about visiting your .ca webpage. Be aware, however, that even though some provinces have their own domain endings, .ca is the national domain and it is for both English-speaking and French-speaking Canada, including the province of Quebec.
A brand identity with a .ca domain name
A large portion of internet users in North America and Europe will trust a .ca domain name. If you or your business are based in Canada, .ca is a necessary means of communication.
Rules and particularities of .ca domain names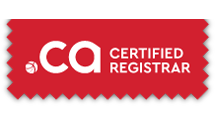 Terms and Conditions
Assigning: .CA domain names are open to persons connected to Canada according with theCanadian Presence Requirements for Registrants
Syntax:from 2 to 63 alphanumeric characters or a hyphen (excluding in the first and last place)
IDN (accented domain names):yes
Registration period:1 to 10 years
Second-level extensions:no
Individual owners can contact our customer service department to request that their contact details be publicly available in the WHOIS

Procedures
Registration: during the .CA registration procedure, some additional information is required. In any case you must indicate the full and exact legal name of the owner as owner contact
Contacts: administrative and technical contacts must be individuals
Renewal:domains are deactivated upon expiration, it is possible to renew up to 45 days following the expiration date
Disputes:CIRA's Dispute Resolution Policy (CDRP)
Transfer (change of Registrar):the request is launched from the website of the domain's new registrar. Be sure that you have the domain's auth code (which you must get from the former registrar), that the domain's status is not "TransferProhibited", that it does not expire soon, that it was created at least 60 days prior to the request and thatthe last transfer and owner change have been done since more than 60 days. The transfer must be confirmed by email. Upon successfully transferring a domain, the registration period is extended by one year
Change of Ownership:requires Gandi's owner change form and accompanying proofs of ID, the new owner must have accepted the Registrant Agreement according to the same procedure for a registration
Deletion process:quarantine of 30 days, see this table
Frequently Asked Questions