Why .com?
The world's most identifiable and popular extension
Originally intended for commercial websites, the .COM extension has become the default domain extension, and therefore the most well-known. The .com extension is now inseparable from anything internet-related. Simple to remember, and professional-looking, it is easily adaptable to all your needs.
The .COM domain extension is the reference on the web
To make your project a reality, why not choose a .COM domain name - the most popular extension in the world. Especially now, when the choice of domain extensions has never been greater, go for the simplicity of a .COM domain name. Focus on your business, we'll take care of the rest.
Choose a .COM domain
Being the most popular domain extension, a .COM domain name offers many advantages:
reliability: indeed .COM will help reassuring your visitors
international aspect: It helps your company to be present internationally
relevant: the .COM also allows you to highlight the commercial aspect of your business.
Rules and particularities of .com domain names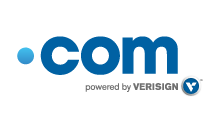 .COM domain names at Gandi.net
Accrediation: Gandi has been accredited by VeriSign since February 2000
Number of domains registered by Gandi : over 460,000 .COM domain names as of September 1st, 2010
Terms and conditions
Attribution: .COM domain names are open to everyone.

Syntax: From 3 to 63 alphanumeric characters or a hyphen (excluding in the first and last place).

IDN: Yes.

Registration period: 1 to 10 years.

Second-level extensions: None.

Procedures
Renewal: domains are deactivated upon expiration. It is possible to renew up to 45 days following the expiration date
Disputes: UDRP (new window)
Transfer (change of registrar): the request is launched from the website of the domain's new registrar. Be sure that you have the domain's auth code (which you must get from the former registrar) and that the domain's status is not "TransferProhibited". A confirmation e-mail will be sent (FOA) to the e-mail address of the current owner of the domain. On average the processing time for this procedure can take from 1 to 10 days
Change of owner: Available on our interface
Deletion process:quarantine of 30 days, see this table
Frequently Asked Questions