Why .ws?
A .ws domain name for a highly localized audience
The .ws domain ending is the official domain ending for Samoa (or the Independent State of Samoa), since until 1997, its official name was Western Samoa. A .ws domain name is a great choice for a website specifically targeting inhabitants of this Pacific island nation. This choice ensures you can enjoy the best visibility amongst Samoan internet users, who will easily remember your web address. Buying a .ws domain name is also an important asset for getting a good SEO ranking in the country.
The .ws domain ending also stands for "website"
Since Samoa has a relatively low population, .ws is frequently repurposed for other uses, particularly by English speakers, since "WS" can stand for "website." A .ws domain name, then, can be used as an alternative to traditional, generic domain endings like .net or .com. With a .ws domain name, you can stand out with a short, impactful, and original web address. Not to mention, .ws is one of the few domain endings in which you can register emoji domain names — domains that contain emojis within them.
Your .ws domain name in just a few clicks
.ws is a global domain name, meaning it can be used by anyone anywhere in the world, used by many companies and organizations, making it a great choice for branding and creating a memorable web address. Anyone can register a .ws domain name. A few clicks are enough to register your .ws domain name for 1 to 10 years.
Rules and particularities of .ws domain names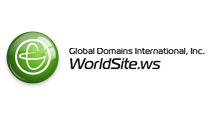 .WS domain names at Gandi.net
Accreditation:Gandi has been accredited by Global Domains International since March 2011
Terms and Conditions
Assigning: .WS domain names are open to everyone
Syntax:from 4 to 63 alphanumeric characters or a hyphen (excluding in the first and last place)
IDN (accented domain names):yes
Registration period:1 to 10 years
Second-level extensions: not provided by Gandi

Procedures
Renewal:domains are deactivated upon expiration, it is possible to renew up to 45 days following the expiration date
Disputes:UDRP
Transfer (change of Registrar):the request is launched from the website of the domain's new registrar. Be sure that you have the domain's auth code (which you must get from the former registrar), that the domain's status is not "TransferProhibited", that it does not expire soon, that it was created/transfered at least 60 days prior the request. The transfer must be confirmed by email
Change of Ownership:available on our interface
Deletion process:quarantine of 30 days, see this table
Frequently Asked Questions