Rules and particularities of .berlin domain names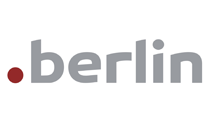 .BERLIN domain names at Gandi.net
Accreditation: Gandi has been accredited by dotBERLIN since January 2014.
Terms and Conditions
Assigning: .BERLIN domain names are open to everyone, but the owner, administrative or technical contact must provide an address in Berlin, and the administrative contact must be an individual. If you do not have a local contact in Berlin, Gandi will automatically provide you with a local contact as technical contact to the Registry.
Your .BERLIN domain name must be activated and used within 12 months following its registration (website, redirection or email address). If you publish a website under your .BERLIN domain name or if your .BERLIN domain name redirects to another website, the content of this website must be related to Berlin.
Syntax: From 1 to 63 alphanumeric characters or a hyphen (excluding in the first, third and fourth, and last place).
IDN (accented domain names): Yes.
Registration period: 1 to 10 years.
Second-level extensions: No.

Procedures
Renewal: Domains are deactivated upon expiration, it is possible to renew up to 45 days following the expiration date.
Disputes: URS, UDRP and .BERLIN ERDRP Policy.
Transfer (change of Registrar): The process is started on the new registrar's interface with an auth code. Ensure that your domain does not have a TransferProhibited status, is older than 60 days and has not been transferred in the last 60 days. The transfer renews the domain name for one year.
Change of Ownership: Available on our interface, the procedure consists in email confirmation by both former and new domain name owner. The expiration date remains unchanged.
Deletion process: Quarantine of 30 days, see this table
Frequently Asked Questions