Rules and particularities of .feedback domain names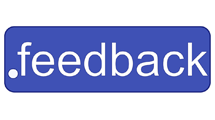 .FEEDBACK domain names at Gandi.net
Accreditation: Gandi has been accredited .FEEDBACK since November 2015
Terms and Conditions
Assigning:
.FEEDBACK domain names are open to everyone.
.FEEDBACK domain names are automatically provisioned on a dedicated platform provided by the Registry
. You can find an example of a platform developed by the Registry at this address:
http://www.eggsample.feedback
. This platform enables to visitors to give their feedback and read reviews by other visitors. You can manage the platform associated to Your .FEEDBACK domain name by log-in to the dedicated Registry website:
http://www.saas.feedback
.
Gandi does not provide the "self-registration" chargeable option which enables to create Your own website for Your .FEEDBACK domain name.Syntax:
from 1 to 63 alphanumeric characters or a hyphen (excluding in the first, third and fourth, and last place)
IDN (accented domain names):
no
Registration period:
1 to 10 years during general availability, 1 year during Sunrise and Landrush periods
Second-level extensions:
no
Procedures
Registration:
registrations via our website
in "Landrush" phase
(9 last days of the "Early Access" period) are subject to the following requirements:
-
you agree to use the dedicated platform provided by the Registry throughout the domain name registration term
. As a consequence, you are not entitled to modify your registration to "self-registration" (option not provided by Gandi) throughout the domain name registration term even in case of a transfer to an other Registrar or an owner change. Failing to comply with the rules above, you will be subject to financial penalties from the Registry and/or to the deletion or the ownership transfer of your domain name,
- during two years following the registration of the domain name, if a third party who is the owner of an identical trademark makes a claim with the Registry, you agree that the Registry will be entitled to transfer the domain name to the owner of the trademark without any refund.
Renewal:
domains are deactivated upon expiration, it is possible to renew up to 45 days following the expiration date
Disputes:
URS
and
UDRP
Transfer (change of Registrar):
the process is started on the new registrar's interface with an auth code. Ensure that your domain does not have a TransferProhibited status, does not expire soon, is older than 60 days and has not been transferred in the last 60 days. The effective transfer depends on your validation (by email) and renews the domain name for one year
Change of Ownership:
available on our interface, the current procedure consists in email confirmation by both former and new domain name owner. Expiration date is unchanged.
Deletion process:
quarantine of 30 days, see this
table
Frequently Asked Questions