Why .rest?
Claim your identity with a .rest domain name
The .rest domain ending is primarily dedicated to restaurant owners. "Rest" is short for "restaurant" in 30 different languages: a .rest domain name is easily understood by the majority of internet users who will easily identify your business area thanks to your web address alone. Buying a .rest domain name is ideal for a website that targets a local clientele as well as tourists.
A .rest domain name to cultivate your brand's image
Choosing a .rest domain name helps you establish your brand image. Benefit from a short, sleek web address that you can print with pride on your offline communications with a .rest domain name. Professional and impactful, your domain name will also be easy for your customers to remember.
Easily register and manage your .rest domain name
Anyone can register a .rest domain name on a "first come, first served" basis. If you run a restaurant or chain, it's a good idea to register your .rest domain name sooner rather than later. You can register yours for a period of 1 to 10 years, and if you transfer an existing .rest domain in to Gandi, it's expiration date will be extended by one year.
Rules and particularities of .rest domain names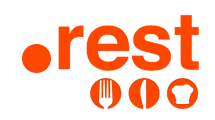 .REST domain names at Gandi.net
Accreditation: Gandi has been accredited by .REST since March 2014
Terms and Conditions
Assigning: .REST domain names are open to everyone
Syntax: from 3 to 63 alphanumeric characters or a hyphen (excluding in the first and last place)
IDN (accented domain names): yes
Registration period: for 1 year during Sunrise and Landrush
from 1 to 10 years during General Availability
Second-level extensions: no

Procedures
Renewal:
domains are deactivated upon expiration, it is possible to renew up to 45 days following the expiration date
Disputes:
UDRP
URS
Transfer (change of Registrar):
the process is started on the new registrar's interface with an auth code. Ensure that your domain does not have a TransferProhibited status, will not expire in less than 90 days, is older than 60 days. There is no change in the domain's expiration date following a transfer Expiration date remains unchanged
Change of Ownership:
available on our interface. Expiration date remains unchanged
Deletion process:
quarantine of 30 days, see this
table
Frequently Asked Questions