Why .so?
Why should you choose .so?
Open to everyone, .so is the Somalia's first-level national domain, which means it allows you to clearly indicate to internet users that your site has a direct link with the country. You can buy a .so domain name for yourself, your business, or your association. This domain allows you to more easily attract internet users who are likely to be interested in your website's content.
Create a clearly identifiable website with .so
Managed by Somalia's minister of telecommunications, .so is ideal for individuals, businesses, or associations based in Somalia or with a link to the country. If you're looking to establish a project in this African country, a .so domain name is what you need.
A .so website is just a click away
After several years of being managed outside of the country, .so is now managed by SONIC, in Somalia. Gandi has been accredited by .so since 2010: we'll help you acquire your new domain name or transfer an existing domain name.
Rules and particularities of .so domain names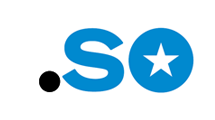 .SO domain names at Gandi.net
Accreditation:Gandi has been accredited .SO since October 2010
Terms and Conditions
Assigning: .SO domain names are open to persons having a bona fide connection to Somalia, which includes but are not limited to: institutions and organizations in Somalia, residents of Somalia, others who have a legitimate, clear and provable connection to Somalia
Syntax:from 3 to 63 alphanumeric characters or a hyphen (excluding in the first and last place)
IDN (accented domain names):no
Registration period:1 to 10 years
Second-level extensions:yes (com.so, net.so, org.so and me.so)

Procedures
Renewal:
domains are deactivated upon expiration, it is possible to renew up to 45 days following the expiration date
Disputes:
Dispute Resolution Policies (4.1)
Transfer (change of Registrar):
the request is launched from the website of the domain's new registrar. Be sure that you have the domain's auth code (which you must get from the former registrar), that the domain's status is not "TransferProhibited", that it does not expire soon and that is older than 60 days. The transfer must be confirmed by email and the domain name is renewed for 1 year
Change of Ownership:
available on our interface, the expiration date remains unchanged
Deletion process:
quarantine of 30 days, see this
table
Frequently Asked Questions