Why .cat?
Highlight the Catalan language with a .cat domain name
A .cat domain name is perfect for businesses that are in Catalan, the language of the Spanish Catalonia region. There is a perfect .cat domain for any local enterprise to worldwide companies that want to show that they are Catalan. 
Brand awareness is easier with a .cat domain as it helps identify your company as Catalan. With a wider selection of domain names that are still available, you can find the perfect domain name.
Get your .cat domain name so that Catalans can find it
The availability of domain names ending in .cat enables you to come up with a short and memorable name that is easy to remember for your visitors. For people searching in the Catalan region, Google will favor .cat websites in the search results page. Customers are also more likely to remember a website with this domain ending since it is short and memorable.
Advantages of a website with .cat
With a sponsored top-level domain, you show that you are proud to be Catalan and win your customers' trust
With a site address ending in .cat, you can promote your geographic area
Make it simple for customers to recall you and mention you on social media
Improve your search engine rankings for searches in the Catalonia region
Offer products and services from international companies to Catalan customers
Rules and particularities of .cat domain names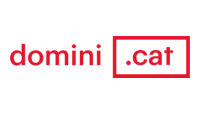 .CAT domain names at Gandi.net
Accreditation: Gandi has been accredited by PuntCat since September 2008
Terms and Conditions
Assigning: anyone can register a .CAT, but you must publish a website in the Catalan language within 6 months of registering the domain name.
Syntax: from 3 to 63 alphanumeric characters or a hyphen (other than in first or last position). 1 and 2-character domain names are available via a manual process.
IDN: no
Registration period: 1 to 10 years
Second-level extensions: no

Procedures
Registration: during the registration, you have to indicate the reason of your registration and the intended use of your domain name
Renewal: domains are deactivated upon expiration. It is possible to renew up to 44 days following the expiration date
Disputes: https://domini.cat/en/rules-of-the-cat-domain/ (2. Conflict resolution procedures)
Change of owner: must be authorized by e-mail by the current owner and the new owner.
Change of Registrar: authorization code must be requested from the current Registrar, then begin the process at your new registrar. A confirmation e-mail will be sent (FOA) to the e-mail address of the current owner or administrative contact. On average the processing time for this procedure can take from 1 to 10 days. No Trade.
Deletion process:quarantine of 30 days
Frequently Asked Questions