Why .sk?
A .sk domain name enhances your visibility internationally
The .sk domain ending is essential for any business or organization looking for greater visibility in Slovakia. The .sk domain ending helps internet users to immediately situate your business geographically by indicating that you have a presence in Slovakia. Buying a .sk domain name is also a great investment for professionals as well as non-profit organizations with connections to Slovakia.
Reach your target market with a .sk domain name
With a .sk domain name, you can create a website specifically designed for optimum visibility in the Slovakian market. Your local customers and prospects will more easily remember your website's address. With a website written exclusively in the local language, you'll also more easily reach a wider audience in Slovakia.
The .sk domain ending is a mark of trustworthiness
National domain endings have an excellent reputation in the eyes of internet users. A website with this type of domain ending is immediately perceived as a source of reliable and official information. By choosing a .sk domain name, you're guaranteed to make a good impression and inspire confidence in those visiting your website.
Rules and particularities of .sk domain names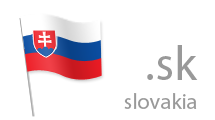 .SK domains at Gandi.net
Accreditation: Gandi has been accredited by SK-NIC since December 2017
Terms and Conditions
Assigning: .SK domains are open to anyone who is able to provide an official delivery address (no PO Box), usable for legal purposes, in a member state of the European Union, the European Economic Area or the European Free Trade Association, upon request. If you do not provide such address within 14 days upon request, the Registry may suspend and/or delete the domain.
Syntax: from 1 to 63 alphanumeric characters or a hyphen (excluding in the first and last place and third and fourth place)
IDN (accented domain names): no
Registration period: 1 to 10 years
Second-level extensions: no

Procedures
Renewal:
domains are deactivated upon expiration. It is possible to renew up to 40 days following the expiration date
Disputes:
ADR
Transfer (change of Registrar):
the request is launched from the new registrar website. Be sure that you have the domain's auth-code and that the domain's status is not "TransferProhibited". The effective transfer renews the domain name for one year.
Change of Ownership:
available on our interface, the current procedure consists in email confirmation by both former and new domain name owner. The expiration date remains unchanged.
Deletion process:
no quarantine, see this
table
Frequently Asked Questions