Why .za?
Target a south african audience with .za domains
The .za domain name ending is an abbreviation for Zuid-Afrika, the Dutch name for South Africa. At Gandi, you may only register a .za domain name if it has another domain ending — called a second-level domain name — appended to it. As such, you can buy a .co.za domain name at Gandi: this will allow you to have a sleek, memorable, and familiar domain name that internet users will easily remember. Domain registration with a .za domain name is an essential first step for selling your products or services in South Africa.
Buy .za domains to cultivate your brand image
The .za domain ending has a professional connotation. If you're targeting internet users who live in South Africa, a .za domain name is a real asset for gaining credibility. Having a .za web address helps you build your brand's image and position yourself as an expert in your field or otherwise a reliable source of information. Gandi is an accredited registrar to sell the .co.za extension perfect for your south African site address.
Register a .co.za domain name for your business
The domain owner doesn't have to be in South Africa. Anyone can register a .za extension, whether you're an organization, business, or individual. You can register your domain name for your business for 1 to 10 years. If you already own a .za domain name, you can transfer it in a few clicks, with no impact on your domain name's renewal date and no additional cost. The second-level domain .co.za comes with the same services as a top-level domain as free DNS and a free SSL certificate for 1 year.
Rules and particularities of .za domain names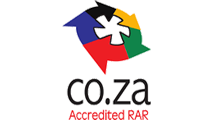 Trustee authority
.zaDNA (ZA Domain Name Authority)
.CO.ZA domain names at Gandi.net
Accreditation: Gandi has been accredited by ZACR for .CO.ZA since August 2012
Terms and Conditions
Assigning: .CO.ZA domain names are open any identifiable legal entities (individuals and legal persons).
Syntax: From 1 to 30 alphanumeric characters or a hyphen (excluding in the first and last place).
IDN (accented domain names): No.
Registration period: 1 year.
Second-level extensions: .CO.ZA.

Procedures
Registration: DNS must be specified and correctly configured according to the Registry's zonecheck.
Renewal: No later than 2 days before the expiration date.
Disputes: ZA ADR.
Transfer (change of Registrar): The request is launched from the website of the domain's new Registrar. Be sure that the domain does not expire soon and was created at least 7 days prior to the request. In case of a transfer to Gandi, Gandi will send you an email for confirmation. Then, the transfer will be subject to confirmation of the Registry email or the approval of the transfer by the losing Registrar within a deadline of 5 days:
- if you confirm the Registry email, your domain will be automatically transferred,
- if you refuse or do not confirm the transfer, but the losing registrar does, then the domain will be transferred at the end of the deadline of 5 days,
- if neither you nor the losing Registrar confirm the transfer, your transfer request will be rejected at the end of the deadline of 5 days.
The transfer does not change the domain's expiration date.
Change of Ownership: Available on our interface, the current procedure consists in email confirmation by both former and new domain name owner. Expiration date is unchanged.
Deletion process: Quarantine of 10 days, see this table.
Frequently Asked Questions