Why .sexy?
A .sexy domain name
The .sexy domain ending is considered a generic domain ending, primarily dedicated to adult websites. Flirty without being vulgar, a .sexy domain name is a great choice for professionals as well as amateurs. While a .sexy domain name is an obvious choice for an adult entertainment website or one selling lingerie, for example, this domain ending could also be used for other industries, like fashion or cosmetics.
Set the tone with a .sexy domain name
Choosing a .sexy domain sets a certain tone: flirty or just playful, you're free to make your content a little more edgy than you might otherwise. On the other hand, this domain ending provides some distance from more explicit domain endings like .porn or .xxx. With a .sexy domain name, you'll have an impactful domain name, that internet users are sure to remember.
Get your .sexy domain with ease
Anyone can register a .sexy domain name, on condition that the front page of your website does not contain explicit content (pornography or nudity). You can register your .sexy domain name in just a few clicks for anywhere between 1 and 10 years, or transfer it and gain an extra year on the renewal date.
Rules and particularities of .sexy domain names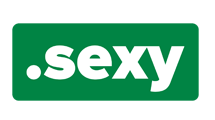 .SEXY domain names at Gandi.net
Accreditation: Gandi has been accredited by Uniregistry since December 2013
Terms and Conditions
Assigning:
.sexy domain names are open to everyone
Syntax:
from 1 to 63 alphanumeric characters or a hyphen (excluding in the first, second and third, and last place)
IDN (accented domain names):
yes
Registration period:
1 to 10 years
Second-level extensions:
no
Procedures
Renewal:
domains are deactivated upon expiration. It is possible to renew up to 45 days following the expiration date
Disputes:
URS
and
UDRP
Transfer (change of Registrar):
the process is started on the new registrar's interface with an auth code. Ensure that your domain does not have a TransferProhibited status, will not expire soon and is older than 60 days and has not been transferred in the last 60 days. The effective transfer depends on your validation (by e-mail). One year is added to the domain's expiration date following a transfer.
Change of Ownership:
available on our interface. The domain name's expiration date remains unchanged.
Deletion process:
quarantine of 30 days, see this
table
Frequently Asked Questions