Why .travel?
Take your website visitors on a trip with a .travel domain name
The .travel domain ending is dedicated to promoting online activities directly related to the travel and tourism industries, especially:
Travel magazines and programs
Travel agencies
Hospitality providers
Travel destinations looking to promote their brand image
Buying a .travel domain name is especially relevant for professionals targeting an international audience.
Gain visibility with a .travel domain name
A .travel domain name helps internet users easily identify you. This domain ending is especially pertinent for an English speaking audience: it's not just familiar, but has a very professional connotation. A .travel domain name is also great for improving your search engine ranking.
Easily manage your .travel domain name
Reserve your .travel domain name for 1 to 10 years. When you register your .travel domain name, you'll just need to confirm that you're involved (or plan to be) in some tourism or travel related activity. Do you already have a .travel domain name? Easily tranfser it: your renewal date will be extended by one year.
Rules and particularities of .travel domain names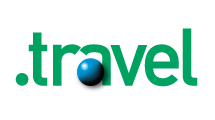 .travel domain names at Gandi.net
Accreditation: Gandi has been accredited .travel since April 2011.
Rules
Assigning: .travel domain names are open to all people or businesses engaged in all things travel related. Registrants of .TRAVEL domain names should acknowledge prior to registration that they are engaged in or plan to engage in activities related to travel.
Syntax: From 3 to 63 alphanumeric characters or hyphens (excluding in first or last place).
IDN (accented domain names): No.
Registration period: From 1 to 10 years.
Available subdomains: No.

Procedures
Renewal: Domain deactivated upon expiration. It is possible to renew a domain name up to 45 days after the expiration date.
Transfer (registrar change): The transfer request is launched on the new registrar's website. Be sure that you provide the domain's authorization code, and that the domain does not have the TransferProhibited status, that it does not expire soon, and that it has been registered or transferred more than 60 days ago. The transfer is confirmed by email.
Owner change: available online, validation email by the two parties is required.
Deletion process: 30-day quarantine period. See the domain deletion table.
Frequently Asked Questions