Why .archi?
Show your expertise with a .archi domain name
The .archi domain ending is exclusively dedicated to professionals in the field of architecture, including:
Architects and members of the International Union of Architects (UIA)
Architectural firms or businesses employing an architect beloing to UIA
It's also open to architecture schools, museums, news organizations, and media on the list established by the .archi advisory board. Purchasing a .archi domain name requires a declaration of affiliation to one of these groups, which may be verified. Using a .archi domain name, therefore, represents a guarantee of professionalism and reliability for internet users.
Boost your visibility with a .archi site
A .archi domain name makes ranking your website easy. On the other hand, this domain ending makes an impression, by benefiting from a short, punchy, and sleek domain name that internet users will have no problem remembering. Highly targeted, .archi also helps people visiting your website immediately identify your area of work.
Highlight your creations with a .archi domain name
A .archi domain name can be used to put your expertise on display. Besides practical information about your business, your website can also act as your portfolio. Share your image gallery and reveal your major achievements and works in progress with this prestigious domain ending.
Rules and particularities of .archi domain names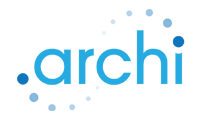 .ARCHI domain names at Gandi.net
Accreditation: Gandi has been accredited by Starting Dot since November 2013
Terms and Conditions
Assigning: .ARCHI domain names are restricted to professional architects and architecture firms registered as a members of an International Union of Architects Member Section and architecture-related organizations listed on a dedicated list defined by the Archi Policy Advisory Committee
Syntax: from 1 to 63 alphanumeric characters or a hyphen (excluding in the first, third and fourth, and last place)
IDN (accented domain names): yes
Registration period: 1 to 10 years
Second-level extensions: no

Procedures
Renewal: domains are deactivated upon expiration. It is possible to renew up to 45 days following the expiration date.
Disputes: URS, UDRP and ERDRP
Transfer (change of Registrar): the process is started on the new registrar's interface with an auth code. Ensure that your domain does not have a TransferProhibited status, does not expire soon, is older than 60 days and has not been transferred in the last 60 days. The effective transfer depends on your validation (by email) and renews the domain name for one year
Change of Ownership: available on our interface. The current procedure consists in email confirmation by both former and new domaine name owner. Expiration date remains unchanged
Deletion process: quarantine of 30 days, see this table
Frequently Asked Questions