Why .pe?
Use a .pe domain name for precise localization
The .pe domain ending is the official domain ending of Peru. Buying a .pe domain name helps you more clearly identify you or your business's link to this country to internet users and search engines alike. Whether your business is located in Peru or if your area of activity has some link to Peru, getting a .pe domain name is a foundational first step to succesfully getting started in the Peruvian market.
A .pe domain name is a measure of credibiilty
Internet users tend to consider a national domain ending a mark of seriousness. By choosing a .pe domain name, you naturally gain credibility, since your website will be perceived as a reliable source of information. You'll also benefit from a streamlined URL that you can use in all your offline materials worry free. Since Peruvian internet users are familiar with .pe, they'll more easily remember your .pe address.
Easily register your .pe domain name
The .pe domain name ending is open to anyone to register:
professionals,
associations,
individuals.
Registering a domain name — for anywhere between 1 and 10 year — is quick and easy.
.pe domain prices
Does not change the expiration date
Rules and particularities of .pe domain names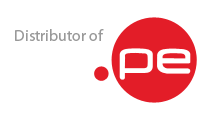 .PE domain names at Gandi.net
Accreditation: Gandi has been accredited by Red Cientifica Peruana since January 2011.
Terms and Conditions
Assigning: .PE domain names are open to everyone.
Syntax: From 1 to 63 alphanumeric characters or a hyphen (excluding in the first and last place).
IDN (accented domain names): No.
Registration period: 1 to 10 years.
Second-level extensions: .com.pe, .net.pe, .org.pe, and .nom.pe.

Procedures
DNSSEC deactivation: In addition to make the deactivation via your Gandi account, you need to contact our customer departement. The deactivation is handled manually by the Registry.
Renewal: No later than 2 days before the expiration date.
Disputes: Dispute Resolution Policy.
Transfer (change of Registrar): The process is started on the new registrar's interface with an auth code. Ensure that your domain does not have a TransferProhibited status and that it does not expire soon. The effective transfer renews the domain name for one year.
Change of Ownership: Available on our interface, the current procedure consists in email confirmation by both former and new domain name owner. The expiration date remains unchanged.
Deletion process: The domain name is deleted by Gandi 1 day before the expiration date, at this time the domain can no longer be renewed or restored. See this table.
Frequently Asked Questions