Why .photo?
Why get a .photo domain name?
Like many generic domain endings created in the 2000s targeting very precise industries (.info, .immo, .hotel, etc.), .photo was launched to relieve the bottleneck in traditional domain endings like .com and .net, who were approaching saturation. The .photo domain ending was specifically conceived for photography professionals and amateurs, whether photographers, galleries, or manufacturers.
A built-in international orientation with a .photo domain name
With a name that clearly explains the type of content that you'll find on the associated website, the .photo domain name is easily understood anywhere in the world and is open to any business or individual without any special registration conditions. This domain ending is appropriate, then, for photographers looking to present their work in order to find customers for their work as well as for amateurs that want to keep an online gallery of their pictures. This domain ending could also be used by businesses or organizations with a link to tourism to create a site where potential customers can find images of a city, a hotel, a restaurant, etc. online.
Promote your business with a .photo domain name
As with other domain endings, .photo gives a more professional touch to your site while integrating it to a larger online community: the community of internet users who practice, use, or enjoy photography. The .photo domain ending also offers you the advantage of being well indexed by search engines whenever a user searches for images online related to your area of activity.
Rules and particularities of .photo domain names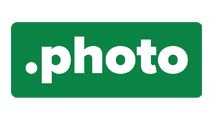 .photo domain names at Gandi.net
Accreditation: Gandi has been accredited .photo since December 2013
Terms and Conditions
Assigning: .photo domain names are open to everyone.
Syntax: From 1 to 63 alphanumeric characters or a hyphen (excluding in the first, third and fourth, and last place).
IDN (accented domain names): yes.
Registration period: 1 to 10 years.
Second-level extensions: No.

Procedures
Renewal: Domains are deactivated upon expiration, it is possible to renew up to 45 days following the expiration date.
Transfer (change of Registrar): the process is started on the new registrar's interface with an auth code. Ensure that your domain does not have a TransferProhibited status, does not expire soon, is older than 60 days and has not been transferred in the last 60 days. The effective transfer depends on your validation (by email) and renews the domain name for one year.
Change of Ownership: Available on our interface, the current procedure consists in email confirmation by both former and new domaine name owner. Expiration date is unchanged.
Deletion process: quarantine of 30 days, see this table.
Frequently Asked Questions