Why .ski?
A .ski domain name for a site dedicated to the slopes
The .ski domain ending is dedicated to the promotion of winter sports and Alpine tourism. Buying a .ski domain name is especially suited to professionals like:
Winter sports resorts
Ski schools
Specialty shops
Sports events or competitions
Sports clubs
Gain more visibility with a .ski domain name
The .ski domain ending automatically evokes the image of mountains and winter sports in the minds of internet users. Easy to identify and to remember, the word "ski" is also a very popular search term. By choosing a .ski domain name, you'll have a real asset for boosting your search engine ranking, allowing you to gain greater visibility online.
A .ski domain name is easy to register
Winter sports professionals and amateurs: anyone can register a .ski domain name without any particular conditions or restrictions. You can register a .ski domain name for a period of between 1 and 10 years. These domains are attributed on a "first come, first served" basis. If you already own a .ski domain name, you can transfer it to Gandi and the registration period will be extended by one year.
Rules and particularities of .ski domain names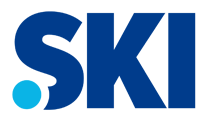 .ski domain names at Gandi.net
Accreditation: Gandi is accredited by .ski since November 2013.
Terms and Conditions
Assigning: .ski domain names are open to anyone.
Syntax: From 1 to 63 alphanumeric characters or a hyphen (excluding in the first, third and fourth, and last place).
IDN (accented domain names): Yes.
Registration period: 1 to 10 years.
Second-level extensions: No.

Procedures
Renewal: Domains are deactivated upon expiration. It is possible to renew up to 45 days following the expiration date.
Transfer (change of Registrar): The process is started on the new registrar's interface with an auth code. Ensure that your domain does not have a TransferProhibited status, does not expire soon, is older than 60 days and has not been transferred in the last 60 days. The effective transfer depends on your validation (by email) and renews the domain name for one year.
Change of Ownership: Available on our interface. The current procedure consists in email confirmation by both former and new domain name owner. Expiration date remains unchanged.
Deletion process: Quarantine of 30 days, see this table
Frequently Asked Questions