Why .ai?
Why choose THE country top-level domain .ai for your site?
".ai" is a short, easy-to-remember domain name ending, that quickly communicates to the world your business's enthusiasm for innovation. Now is the time to get involved and get your .ai domain. This generic top-level domain is a fantastic option for tech-company entrepreneurs and artificial intelligence organizations aiming to transform the world with technology. The .ai domain extension can be bought from any domain registrar but only Gandi offers a live DNS and a free SSL certificate for 1 year with domain registration.
What uses is the .ai extension good for?
The .ai domain is becoming the preferred option for Artificial Intelligence firms and startups, and it is also used by companies on the Caribbean island of Anguilla as it is the official country code domain of Anguilla. The .ai TLD directly adds credibility and legitimacy, which can raise the likelihood that a website will be visited by potential customers.
The ability to create words ending in "ai" using the second-level domain is another fantastic benefit of the .ai domain. For instance, ch.ai for websites that sell chai tea or shangh.ai for websites that are about this famous city in China. Before they even click on the link, visitors will already understand what the website has to offer.
A foot in the 'artificial intelligence' World
Since the term "AI" stands for "Artificial Intelligence," it has grown in popularity among IT and IT organizations and is currently one of the most sought-after domain extensions.
While certain other country code domains require a physical presence in that country to register a domain name, the .ai domain registration started opening their official domain extension to all in 2009. Anyone from anywhere can now buy .ai domains. In the startup community, the .ai domain is being used as the new .com. The majority of names with a .com domain are already taken, but because the .ai domain is relatively new, there are more options because the tech namespace is less saturated.
Rules and particularities of .ai domain names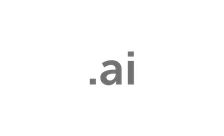 .AI domains at Gandi.net
Accreditation: Gandi has been accredited for .AI since February 2019.
Terms and Conditions
Assigning: .AI domains are open to everyone. Domain names are activated within 3 hours after registration.
Syntax: From 3 to 63 alphanumeric characters or a hyphen (excluding in the first and last place and third and fourth place).
IDN (accented domain names): No.
Registration period: 2 years.
Second-level extensions: Yes, .COM.AI, .NET.AI, .OFF.AI, .ORG.AI.

Procedures
Renewal: Domains are deactivated the day after expiration. It is possible to renew up to 30 days following the suspension.
Disputes: UDRP.
Transfer (change of Registrar): The process is started on the new registrar's interface. Be sure that you have the domain's auth code (which you must get from the former registrar), that the domain's status is not "TransferProhibited", and that it does not expire soon. The domain is renewed for 2 years.
Change of Ownership: Available on our interface.
Deletion process: Quarantine of 59 days (then the domain name will go to an auction process).
Frequently Asked Questions