This extension requires subscribing to Gandi's Corporate Services.
Rules and particularities of .ky domain names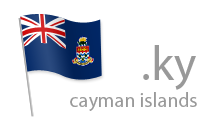 Registry
Utility Regulation and Competition Office
Terms and Conditions
Assigning: .KY domains are open to everyone.
Syntax: From 5 to 63 alphanumeric characters or a hyphen (excluding in the first and last place and third and fourth place).
IDN: No.
Registration period: 1 year.
Second-level extensions: .com.ky.
Frequently Asked Questions