Why .pro?
Why buy a .pro domain name?
The .pro domain ending is perfect for organizations, businesses, and private individuals who want to highlight the professional character of their websites, while also giving them an international stature. The term "pro" is short for "professional" in many languages, and internet users around the world will quickly understand that the website is one by or for experts.
The .pro domain ending is recognizable around the world
The .pro domain ending has a triple advantage: first, it refers to the content it hosts and advertises the serious, professional character of those who use it. Next, it can be used across many business sectors, so long as they're businesses or professional organizations. Finally, it's intelligible to all internet users, which means you can use it around the world.
You can register your .pro domain name for anywhere between one and ten years, and the name you choose can be between 4 and 63 characters.
A .pro domain name strengthens your business's brand
As you can probably tell, a .pro domain name promotes your brand's image and lets you easily advertise your area of activity.
Rules and particularities of .pro domain names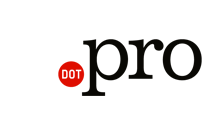 .PRO domain names at Gandi.net
Accreditation:Gandi has been accredited .PRO since June 2005
Terms and Conditions
Assigning: .PRO domain names are open to everyone
Syntax: from 4 to 63 alphanumeric characters or a hyphen (excluding in the first and last place)
IDN:no
Registration Period:from 1 to 10 years
Second-level extensions:no

Procedures
Renewal: domains are deactivated upon expiration. It is possible to renew up to 45 days following the expiration date
Disputes: URS and UDRP
Transfer (change of registrar):the request is launched from the website of the domain's new registrar. Be sure that you have the domain's auth code (which you must get from the former registrar), that the domain's status is not "TransferProhibited", that it does not expire soon and that it was created/transferred at least 60 days prior to the request. The transfer must be confirmed by email and the registration period is extended by one year
Change of Ownership:available on our interface, the current procedure consists in email confirmation by both former and new domain name owner. The expiration date is unchanged
Deletion process:quarantine of 30 days, please refer to this page in our wiki
Frequently Asked Questions