Why .io?
Choose a .io domain name
The .io domain ending was initially created as the geographic domain ending for the British Indian Ocean territories, "io" signifying "Indian Ocean." This domain ending has evolved a lot with the emergence of startups, especially in the tech industry, where it soon became an industry favorite since the letters "i" and "o" are also an abbreviation for the term "input/output." By choosing this domain ending, you're choosing a domain name that shows you're a modern innovator.
The advantages you get with a .io domain name
The .io domain ending offers your business visibility in the world of start-ups, tech, and also video games, new technologies, the internet of things, etc. In sum, .io gives you a modern identity, with your finger on the pulse. Used internationally, .io offers you wide visibility around the world.
Cultivate your professional identity with a .io domain name
While it's popular in the world of start ups and technology in general, .io is still not widely used outside of those milieus, and finding the right .io domain name will be much easier than finding the right .com, which is far more saturated and can hence reduce your visibility.
Rules and particularities of .io domain names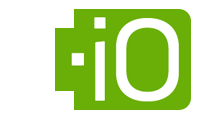 .io domain names at Gandi.net
Accreditation: Gandi has been accredited .io since April 2012
Terms and Conditions
Assigning: .io domain names are open to everyone.
Syntax: From 2 to 63 alphanumeric characters or a hyphen (excluding in the first and last place).
IDN (accented domain names): Yes.
Registration period: 1 to 10 years.
Second-level extensions: Not provided by Gandi.

Procedures
Renewal: Domains are deactivated upon expiration, it is possible to renew up to 45 days following the expiration date.
Disputes: Dispute Resolution Policy
Transfer (change of Registrar): The request is launched from the website of the domain's new registrar. Be sure that you have the domain's auth code (which you must get from the former registrar), that the domain was created at least 60 days prior to the request and it does not expire soon. The transfer must be confirmed by email and the registration period is extended by one year.
Change of Ownership: Available on our interface, the procedure consists in email confirmation by both former and new domain name owner. The expiration date remains unchanged.
Deletion process: Quarantine of 30 days, see this table
Frequently Asked Questions