Why .nu?
What's a .nu domain name?
The .nu domain ending is the geographic domain ending for the small, Pacific island nation of Niue, located 2,400 km (1,500 miles) from New Zealand. Launched in 1997, .nu and mostly used outside of island, .nu is a convenient domain ending that's open for anyone to register a domain name. The term "nu" has a few different meanings, depending on the language, and can be used for different types of website.
A .nu domain name is well suited to several languages
In English-speaking countries, .nu can be used to mean "new." And even though the meaning of "nu" may seem obvious in English, this domain ending can also be used to make "domain hacks", or domain names that use the domain ending as part of a word or phrase, like "me.nu," for example. We leave it to you to find a word that fits for you.
Promote your business with a .nu domain name
By choosing .nu for your domain name, you will be able to freely choose your domain name, since this domain ending is still relatively untapped compared to traditional ones like .com or .net. It's also easy to remember and can improve your search engine ranking.
Rules and particularities of .nu domain names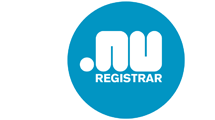 .nu domain names at Gandi.net
Accreditation: Gandi has been accredited for .nu since October 2007.
Terms and conditions
Attribution: .nu domain names are open to everyone.
Syntax: From 1 to 63 alphanumeric characters or a hyphen (excluding in the first and last place).
IDN: Yes.
Registration period: 1 year.
Second-level extensions: No.

Procedures
Registration: During the registration process, you have to provide the following:
if you are an individual, your ID number (passport number …),
if you are a legal person, your registration number (corporate/business number...),
in addition, if you are a legal person located inside the European Union but outside Sweden, your VAT number (if applicable).
Disputes: UDRP.
Change of Registrar: The request is launched from the website of the domain's new registrar. Be sure that you have the domain's auth code (supplied by current Registrar) and that the domain does not expire soon. The expiration date remains unchanged.
Change of owner: Requires Gandi's owner change form, please contact our support team. The expiration date remains unchanged.
Deletion process: Quarantine of 60 days, see this table.

.NU information
GANDI is an accredited registrar for the Niue top domain, .NU. Together with the registry, GANDI is working for positive development of the Internet in Sweden for the benefit of users and society at large. Our common goal is satisfied domain holders, regardless of whether they are large organizations or private persons.

Information about handling of personal information: GANDI handles personal information in a manner that is in accordance with the Swedish Personal Data Act (1998:204) and .SE's integrity policy.

Hours of operation: GANDI's support department answers received questions Monday through Friday, as described here. We will answer your questions as quickly as possible. You can also e-mail your questions to support@doman.nu.

Our address: GANDI
Frequently Asked Questions