This extension requires subscribing to Gandi's Corporate Services.
Rules and particularities of .kz domain names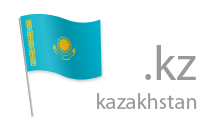 Terms and Conditions
Assigning: .kz domain names are open to anyone.
Technical requirements: Hosting must be located in Kazakhstan for the main domain and for subdomains.
A, AAAA, CNAME records for the domain and subdomains must point to an IP address of a server physically located in Kazakhstan.
DNS and mail can be placed in any country. NS, MX, TXT, and SPF records can refer to services and IP addresses in any country without restrictions.
Redirection to domains in other zones can be done if the redirection server is located in Kazakhstan.
All domains and subdomains must have a SSL certificate (domestic or foreign).
Defensive registration is possible.
Failure to comply with these requirements will result in suspension and/or deletion of the domain without any refund. Gandi may provide you with local hosting upon request. Fees corresponding to this service will be communicated upon request.
Syntax: From 3 to 63 alphanumeric characters or a hyphen (excluding in the first and last place).
IDN: No.
Registration period: 1 year.
Second-level extensions: .com.kz.
Frequently Asked Questions