Why a .coop
Why choose a .coop domain name for your website ?
The .coop was created for all existing organizations. The goal is to create a unique and exclusive space on the Internet.
What are the requirements to purchase a .coop domain name ?
This extension cannot be registered by everyone but only by cooperative companies and their subsidiaries. The latter must be authenticated by the registry in charge of .coop.
Rules and particularities of .coop domain names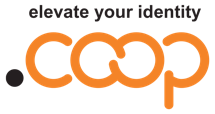 .COOP domain names at Gandi.net
Accreditation: Gandi has been accredited by DotCooperation LLC since December 2010.
Rules
Assigning: .COOP domain names are reserved to cooperatives.
Syntax: From 3 to 63 alphanumeric characters or hyphens (except for first and last place).
IDN (domains with accented letters) : No.
Registration period: From 1 to 10 years.
Second-level extensions: No.

Procedures
Eligibility verification: During the registration of your domain name, you self-certify that you comply with .COOP eligibility conditions. The Registry may verify your eligibility at any time, and suspend or delete your domain name if you are not able to provide supporting documents.
Renewal: The domain is deactivated upon expiration. Late renewal is possible up to 45 days after the expiration date.
Disputes: UDRP, CEDRP and URS.
Transfer (registrar transfer) : The process is started on the new registrar's interface with an auth code. Ensure that your domain does not have a TransferProhibited status, is older than 60 days and has not been transferred in the last 60 days. The transfer renews the domain name for one year.
Owner change: Available on our interface, the procedure consists in email confirmation by both former and new domain name owner. The expiration date remains unchanged.
Deletion process: Quarantine of 30 days, see this table.
Frequently Asked Questions