This extension requires subscribing to Gandi's Corporate Services.
Rules and particularities of .tr domain names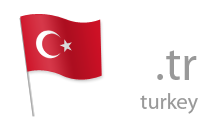 Terms and Conditions
Assigning: .COM.TR, .NET.TR, .ORG.TR, .WEB.TR, .BBS.TR, .BIZ.TR, .GEN.TR, .INFO.TR, .NAME.TR, .TEL.TR, .TSK.TR and .TV.TR are open to everyone without restriction.

.AV.TR, .BEL.TR, .DR.TR, .EDU.TR, .GOV.TR, .NET.TR, .ORG.TR and .K12.TR are open to individuals and legal persons with a significant connection to Turkey.

Syntax: From 3 to 63 alphanumeric characters or a hyphen (excluding in the first and last place).

IDN (accented domain names): No.

Registration period: 1 year.

Second-level extensions: Yes.
Procedures
Registration: Once your request has been made, a form will have to be filled out and sent to Gandi with documentary evidence, within the given deadline. Depending on the category of your domain name, the required documents are:

- for individuals: a copy of your ID (e.g. passport, national ID card),
- for legal persons: a copy of the incorporation certificate of the company or a copy of the trademark certificate,
- evidence of your link with the Turkey if required.

Furthermore, you must specify DNS nameservers that are correctly configured for the domain name that you intend to register.
Frequently Asked Questions