Choose the VPS server configuration that suits you
Why choose Gandi as your cloud VPS provider?
Reliable VPS virtual servers and service

Our VPS virtual servers are hosted in France, with a 99.95% monthly availability rate. Benefit from our expertise in customer support for over 20 years.

Simple, transparent pricing

Automatic creation of your virtual servers in just 2 minutes. We offer clear pricing to guarantee the best visibility of your consumption rates.

100% open VPS cloud infrastructure

Our cloud is based on Openstack and provides public APIs for managing your VPS virtual servers. Deploy and configure your cloud VPS server with your own Infra-as-code tools (Terraform, Ansible, ..)
An intuitive user interface
Gandi's VPS interface gives you quick access to all the primary controls for efficiently managing your VPS server. Carry out maintenance operations on your VPS virtual servers and monitor the status of your VPS server infrastructure.
In just a few clicks you can:
Change the RAM/CPU settings of your VPS server to adapt it to your application's requirements.
Increase the size of the storage (volume) associated with your VPS server, or even create new virtual servers.
Activate and access your console to troubleshoot any problems on our VPS server.
Save time managing your VPS with the Openstack CLI (Command Line Interface)
If you prefer a command line interface (CLI) to manage your VPS server, no problem! In just a few seconds, configure your public API access and create and manage VPS virtual servers directly from the CLI.
For more advanced use cases, we chose to base our new VPS platform on Openstack, and to provide you access to the public API. That way, as a system administrator, you can use your own VPS deployment tools like Ansible, Terraform, and Chef, and connect them with the public API (Openstack API) that we provide for your VPS virtual servers.
Monthly and flexible billing for your VPS server
Our objective is not to provide "cheap virtual servers," but VPS servers at a price that enables us to ensure high-quality service and support. Generally, on a VPS server, your flexibility is more limited than on a public Cloud. Our GandiCloud VPS virtual servers are flexible and you can use them for uses that demand greater flexibility: testing, hosting applications, or websites that experience significant spikes in traffic. You can change your VPS server configuration in just a few seconds, and adjusting the CPU or RAM allocated to your VPS server up or down is quick and easy.
You also have complete flexibility in the management of your VPS server's disk storage. We decided to offer a 25 GB disk with each VPS server. This disk can be increased up to 1 TB, according to your VPS server's needs. You can also choose to associate several disks to your VPS server in order to further increase its storage capacity.
Plans Features
V-R1
V-R2
V-R4
V-R8
V-R12
V-R16
Price/month

$9.72

$16.20

$30.78

$61.56

$101.17

$172.05

CPU

1 core

1 core

2 cores

4 cores

6 cores

8 cores

RAM

1 GB

2 GB

4 GB

8 GB

12 GB

16 GB

Main Storage
25GB
Maximum Storage for additionnal volumes
1TB (per volume). Replicated on several disks.
Additional volumes
0.117936 / month / GB
Snapshots
Manual and automatic
Bandwidth
250 Mbit/s, 3TB transfer included
Public IP
1*IPv4 + 1*IPv6
Availability
99.95% monthly
Technical support
By e-mail, included, 6 days a week, 8 a.m. to midnight (Paris time)
SSH Access
Yes
Public API
Public Openstack API available
Emergency Console
Included
OS images
Ubuntu 20.04, Debian 10, Arch Linux, NixOS
Start
Start
Start
Start
Start
Start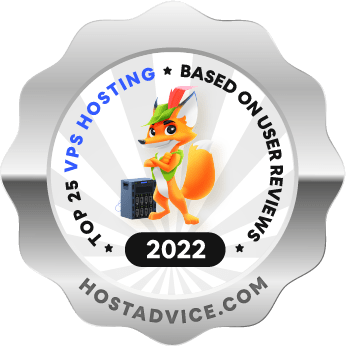 HostAdvice recommends GandiCloud VPS!
The well-known Hosting provider comparison website HostAdvice selected Gandi among the best VPS providers in the world.
At Gandi, we have the customer's satisfaction and transparency as our core values. So we are proud to see this award recognize it, and are pleased to display our customers' reviews on our Gandi.net HostAdvice page.
See Gandi reviews on Hostadvice
Gandi VPS and Cloud hosting provider since 2008
For almost 15 years, Gandi has offered VPS virtual servers to our customers. Whether that's in the form of flexible Cloud VPS billed by the hour, or VPS virtual servers billed monthly, we aim to remain an alternative VPS server hosting provider for SMEs and internet professionals. All of this comes from Gandi's core values for more than 20 years: we're building a free, alternative, ethical internet for the common good.
Gandi is completely independent. For our VPS, we own our own physical servers in datacenters that we entirely administer ourselves: from managing the equipment to supervising the infrastructure network and the interconnection with other hosting providers.
Our VPS virtual servers are known for being extremely reliable, and are based on the latest generation of servers available. At Gandi, VPS virtual servers are not thought of as a "low-cost" Cloud solution.
Like all of Gandi's services, we aim to remain a transparent and open VPS server provider when it comes to our pricing as well as their uses, by offering a public API that allows for the use of Cloud deployment tools for VPS (Terraform, Ansible, Cloud-init).
Finally, our technical support is a major part of what Gandi has to offer, and is at the core of our service. Our team of experts is available 24 hours a day, 6 days a week to answer your questions or help solve whatever problems you may encounter deploying your VPS server or your Cloud infrastructure.
Launch your project ⛵️
Virtual servers for professional uses
Deploy a web application on a VPS server
Need to launch an application quickly?
Don't waste time! Once your account is activated on the GandiCloud platform, you can create a VPS server in less than 2 minutes! Connect to your VPS virtual servers via SSH to deploy your application on your VPS server or use an existing Ansible playbook.
Host containers on VPS
Do you want to deploy a micro-service infrastructure via containers on VPS?
Configure the Terraform connector on the OpenStack public API to easily deploy your container infrastructure to one or more GandiCloud VPS virtual servers. Learn more about Terraform and GandiCloud VPS.
Deploy a high traffic e-commerce site on your VPS server
Are you looking for a flexible VPS server option to host your e-commerce site?
GandiCloud VPS virtual servers are intended for professional use and perfectly suited to hosting a high-performance e-commerce site. Adjust VPS server power according to the load on your site, and use the OpenStack public API to automate configuration changes to your VPS virtual servers.
Launch an online SaaS on a VPS server
Want to launch your SaaS online using VPS?
Build on Gandi's experience as a web host. Technical support is included, available by email 6 days a week, 8 am-midnight. Our team is ready to help with your VPS virtual servers!
Set up a Business Continuity Plan (BCP) on VPS
You already have VPS virtual servers elsewhere, but do you want to set up a BCP?
Since 2008, Gandi has been an independent cloud VPS player. We have our own data centers in Europe (France) and network infrastructure for managing VPS virtual servers.
Frequently asked questions
What is the difference between a GandiCloud VPS and a Gandi Cloud server?
These two offers provide you with virtual servers. Cloud Server is Gandi's historic platform, and has been offering VMs for nearly 10 years. These have the particularity of being able to be totally personalized. The functions of Gandi Cloud will be gradually included in the GandiCloud VPS offer.
How long does it take to deliver a GandiCloud VPS?
One of the main interests of IaaS (Infrastructure as a Service) type solutions is based on the automation of resource delivery. Thus, regardless of when you create a GandiCloud VPS, if you have the necessary amount in your Gandi prepaid account, its creation begins instantly and automatically without any human intervention. In less than 2 minutes you can access your server.
How are GandiCloud VPS billed?
GandiCloud VPS are billed monthly, as a post-payment. To ensure maximum simplicity in the daily use of the platform, we rely on the prepaid account. Thus, it is necessary that you make sure that you have the necessary amount in your prepaid account, or that you have a valid means of payment associated with it.
Can I choose the location of my server?
On the GandiCloud VPS offer, it is currently not possible to choose the location of your server. All the servers are hosted in France in our FR-SD6 Datacenter.
Can I install a CMS on a GandiCloud VPS?
As with any server / VPS offer, once the server is created, you have admin & root access and can thus deploy any application or CMS (Wordpress, Drupal, Magento, etc.).
Is my server data backed up?
The Gandi infrastructure has replication mechanisms to guarantee a good level of protection for the integrity of your data. However, this cannot replace a periodic and remote backup system and policy. This safeguard is your responsibility.The ability to take snapshots of your images will be available soon, but this does not replace a remote backup.
The configurations do not match my needs, can I create a server with a tailor-made configuration?
Today, it is not possible to create a tailor-made server. New configurations will arrive in the coming weeks. Also, we invite you to contact us to let us know your exact needs.
Which Operating Systems are available with the GandiCloud virtual private server ?
Today we offer two well-known Linux distributions :
We will provide soon other distributions, and also the possibility to come with a his own OS image. It will be then possible to deploy Fedora, FreeBSD or CentOS VPS.
At the moment you can use our other Cloud Server offer if you need a FreeBSD server, or a CentOS server.
At the moment we do not propose Windows on our VPS.