Why .net?
What is .net?
Almost as well known as .com, .net is one of the traditional domain endings used internationally: .net is the third most used domain ending in the world. Created in 1985, .net is short for "network," and was originally intended for internet providers. But .net was quickly adopted by businesses in a wide range of industries and saw particularly strong growth in the early 2000s during the .com boom, reaching over four million registraitons in 2001.
The advantages of .net
Since then, .net has continued to grow, making it a safe bet and one of the most recognized domain endings in the world. In 2014, more than 14 million .net domain names had been registered. This domain ending is especially popular in certain sectors like e-commerce and online publicity.
The .net domain ending indicates an international orientation
Like .com, .net is famous around the world and you can therefore use it in any country, since .net is open to anyone, whether you're a business, an organiation, or a private individual, and .net doesn't have any particular requirements for registration, so long as the domain name you want is available. On a global scale, the majority of internet users will trust a .net domain name
Rules and particularities of .net domain names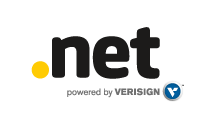 .NET with Gandi.net
Accreditation: Gandi has been accredited by VeriSign since February 2000
Number of domains registered by Gandi: over 90 000 .NET since September 1st, 2010
Procedures
Assigning: .NET domain names are open to everyone
Syntax: from 3 to 63 alphanumeric characters or a hyphen (excluding in the first and last place)
IDN: yes
Registration period: 1 to 10 years
Second-level extensions: no

Procedures
Renewal:
domains are deactivated upon expiration. It is possible to renew up to 45 days following the expiration date
Disputes:
UDRP
Change of Registrar:
the request is launched from the website of the domain's new registrar. Be sure that you have the domain's auth code (which you must get from the former registrar), and that the domain's status is not "TransferProhibited". A confirmation e-mail will be sent (FOA) to the e-mail address of the current owner of the domain. On average the processing time for this procedure can take from 1 to 10 days.
Change of owner:
Available on our interface
Deletion process:
Quarantine of 30 days, see this
table
Frequently Asked Questions