Why .fm?
Speak out with a .fm domain name
The .fm domain ending is the official domain ending of the Federated States of Micronesia, which specifically includes the Marshall Islands. However, most internet users associate .fm more commonly with radio broadcast. Buying a .fm domain name, then, is a good choice for music industry professionals, radio stations, and media sources as well as for private individuals looking to create websites related to these topics.
A .fm domain name for interactive content
A .fm domain name is perfect for creating an internet radio station or for creating a space for publishing your own podcasts and videos. This domain ending is automatically associated with online media and gives you a clear and impactful URL. A .fm domain has a professional connotation, ideal for earning credibility with your audience.
A .fm domain that reflects you
The .fm domain ending offers greater possibilities than traditional domain endings like .com or .net which tend to be oversaturated. You have a better chance to get the .fm domain name you really want. That way, you can get a short, snappy URL that represents both your identity but also the content that you offer.
Rules and particularities of .fm domain names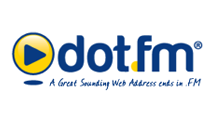 Registry technical operator
.FM domain names at Gandi.net
Accreditation: Gandi has been accredited by BRS Media since September 2009.
Terms and Conditions
Attribution: .fm domain names are open to everyone.
Syntax: From 2 to 63 alphanumeric characters or a hyphen (excluding in the first and last place).
IDN: No.
Registration period: 1 to 10 years.
Second-level extensions: No.
Procedures
Renewal: Domains are deactivated upon expiration, it is possible to renew up to 44 days following the expiration date.
Disputes: UDRP.
Transfer (change of Registrar): The process is started on the new registrar's interface with an auth code. Ensure that your domain does not have a TransferProhibited status, is older than 60 days and does not expire soon. The transfer renews the domain name for one year.
Change of Ownership: Available on our interface, the procedure consists in email confirmation by both former and new domain name owner. The expiration date remains unchanged.
Deletion process: Quarantine of 30 days, see this table.
Frequently Asked Questions