Why .london?
The official domain name for London
The .london is a trusted web address for your business. It's a quality top-level domain (TLD) with plenty of brand equity.
Choose a domain with a good reputation for your site: The .london domain portfolio has been identified as one of the most trustworthy, with no activities such as phishing, distribution of malware, and scams.
Be found by the local people: The .london city domain informs search engines about your location, enhancing your position in pertinent queries.
The website address you've always desired: Given the relative youth of the .london domain, finding an available domain name is easier, so you can find your own.
Are you a .London-er?
You are if you have a close relationship with London, a flourishing and dynamic global powerhouse:
Companies all around the city use .london to reach out to new customers and show their support for the place they call home.
.london domain names serve as a bridge between the local and the international for businesses situated in London. The range of companies that have registered a .london domain name exemplifies the city's widespread innovation and inventiveness.
There are an increasing number of ".london-ers," from huge corporations with a national focus to small businesses deeply rooted in their neighborhoods—including museums, trendy restaurants, performing arts groups, educational institutions, and real estate developers.
Choose a .london domain name
Choosing .london has several advantages, from facilitating connections with your neighborhood to the recognition of the domain name as the official online address for London.
Choosing a .london web address has a lot more benefits. The .london TLD is contributing to the domain name's strong good reputation. The registry maintains the high quality of the .london top-level domain (TLD) as members of the geoTLD group, which aims to increase the visibility and efficiency of location-based domain names like .london, as well as the Internet Watch Foundation, a nonprofit organization that promotes internet safety.
There are a ton of other benefits to choosing a .london web address, including better SEO results, more accessible domain names, and joining the proud ".london-er" community.
Rules and particularities of .london domain names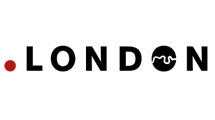 Registry technical operator
.london domain names at Gandi.net
Accreditation: Gandi has been accredited by Dot London Domains Limited since May 2014.
Terms and Conditions
Assigning: .london domain names are open to everyone during General Availability
Syntax: from 1 to 63 alphanumeric characters or a hyphen (excluding in the first and last place)
IDN (accented domain names): yes
Registration period: 1 year during the Sunrise and the London Priority Period, 1 to 10 years during the General Availability
Second-level extensions: no
Procedures
Registration:
- Sunrise: reserved to owners of a trademark registered and validated with TMCH
- London Priority Period : during this period (which runs concommitantlt with the Sunrise) the requests for registration are prioritized given certain criteria. The registration are prioritized as follows once the Sunrise registrations are complete :
1. Those who have a London address and a right to a name (that matches their business name)
2. Those having a London address for any name
3. Those without a presence in London
If multiple demands with the same rank of priority are made an auction is held by the .LONDON Registry.
- General Availability: open to anyone
Renewal: domains are deactivated upon expiration. It is possible to renew up to 45 days following the expiration date
Disputes: policy and policy
Transfer (change of Registrar): the process is started on the new registrar's interface with an auth code. Ensure that your domain does not have a TransferProhibited status, will not expire in less than 90 days, is older than 60 days and was not transferred the past 60 days. The successful transfer depends on your validation (by e-mail), and will renew the domain for 1 year.
Change of Ownership: available online via our website. The expiration date remains unchanged
Deletion process: quarantine of 30 days, see this table
Frequently Asked Questions