Why .gr?
A .gr domain name helps you better localize yourself
Since .gr is Greece's geographic domain ending, buying a .gr domain name is a good choice for any business or organization who's area of activity is in Greece We also recommend using your .gr domain name for a version of your website exclusively in Greek. A .gr domain name is all you need to immediately localize yourself.
A .gr domain name for gaining internet users' trust
Internet users automatically associate geographic domain names with a reliable website — even an official one. Getting a .gr domain name helps you position yourself as a trustworthy source of information and to assert the seriousness of your business in the Greek market. Greek internet users will find it easier to remember your URL.
A versatile and complete .gr site
A .gr domain name has an official connotation. It enables you to create a very versatile page, capable of centralizing your different online communication tools, such as:
A sales or reservation website
A blog
A podcast or videos
That way, your .gr domain name can help you establish yourself as a resource for a specific topic for Greek-language internet users.
Rules and particularities of .gr domain names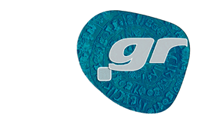 Trustee authority
EETT
(Hellenic Telecommunications and Post Commission)
.GR domain names at Gandi.net
Accreditation: Gandi has been accredited for .GR since January 2012
Terms and Conditions
Assigning: .GR domain names are open to everyone
Syntax: from 2 to 63 alphanumeric characters or hyphen (excluding in the first and last place and successive hyphens)
IDN (accented domain names): yes
Registration period: 2 years
Second-level extensions: yes (.com.gr , .net.gr , .org.gr and edu.gr)

Procedures
Creation:
the registry activates new domain names within about a 6-day period following their registration
Renewal:
no later than 2 days before the expiration date
Disputes:
Regulation on Management and Assignment of .gr and .ελ – in particular Article 10 A) 2.
Transfer (change of Registrar):
the request is launched from the website of the domain's new registrar. Be sure that you have the domain's auth code (which you must get from the former registrar) and that the domain does not expire soon. The expiration date remains unchanged
Change of Ownership:
not available on our interface, please contact our customer support. .GR domain owner changes do not alter the expiration date of the domain.
Deletion process:
quarantine of 15 days, see this
table
Frequently Asked Questions