Why .paris?
Why get a .paris domain name?
Offered by AFNIC in order to promote the economy of the city of Paris, the .paris domain ending officially opened December 2, 2014. Choosing a .paris domain name allows you to cultivate the image of your French brand internationally online. Paris, of course, is world famous and especially active economically. Internet users will easily find your website thanks to .paris. Whether your live in the Paris area or you have some other direct or indirect connection to the Île de France region, get your domain name with .paris!
Paris is on the international stage with .paris
Open to anyone on a first come, first served basis, .paris is the perfect opportunity for a business to make itself known the world over. The City of Lights is itself the subject of a high number of search engine queries. As such, .paris serves as a keyword that can bump your website into the top search results.
Give your business some refinement with .paris
A .paris domain name can serve as an emblematic display of French charm as well as an excellent launchpad from which to jump to international markets. Paris is often associated with romance, luxury, and charm, so having a .paris domain name is perfect for positioning your site as a refined platform in the eyes of internet users. In particular, .paris can be a major asset for tourism establishments, cultural sites, and restaurants.
By using this domain ending, you'll give your website's visitors a strong sense of place, and provide a touch of refinement to your domain name.
Rules and particularities of .paris domain names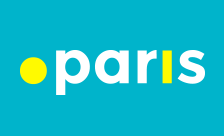 .PARIS domain names at Gandi.net
Accreditation: Gandi has been accredited for .PARIS since May 2014.
Terms and Conditions
Assigning: .PARIS domain names are open to anyone with a connection to Paris community. This link can be your localization (in Paris or Île-de-France aera), or cultural, touristic, personal, commercial, professional or any other basis that is conducive and not detrimental to the benefit of Paris community.
Syntax: From 3 to 63 alphanumeric characters or a hyphen (excluding in the first, third and fourth, and last place).
IDN (accented domain names): No.
Registration period: 1 to 10 years.
Second-level extensions: No.

Procedures
Renewal: Domains are deactivated upon expiration, it is possible to renew up to 45 days following the expiration date.
Disputes: The Registry has adopted the following procedures:
ERDRP: disputes relative to eligibility conditions
CRDRP: disputes relative to the breach of the registration policies or to the inaccuracy of your data.
Transfer (change of Registrar): The process is started on the new registrar's interface with an auth code. Ensure that your domain does not have a TransferProhibited status, does not expire soon, is older than 60 days and has not been transferred in the last 60 days. The effective transfer renews the domain name for one year.
Change of Ownership: Available on our interface, the current procedure consists in email confirmation by both former and new domain name owner. The expiration date is unchanged.
Deletion process: Quarantine of 30 days, see this table.
Frequently Asked Questions