Why .shop?
Why get a .shop domain name?
The .shop domain ending was created for e-commerce brands that want to create an online shop for their customers. Released in late 2016, this domain ending quickly attracted businesses that use the web for their sales platforms around the world. Its international reputation is beyond doubt.
Bet on greater visibility with a .shop domain name
If you're a business with a dedicated online sales platform, .shop can greatly boost your business. First, it offers you greater visibility by identifying your website explicitly as a sapce for selling goods or service. Next, unlike domain endings like .com or .net that are highly saturated in terms of domain names registered, .shop still has a wide range of choices available for your domain name. What's more, registering a .shop domain couldn't be easier.
Give your brand high-quality communications with a .shop
An original domain ending, .shop helps you explicitly show internet users in any country that your site is an online store. This domain ending also provides you with a good SEO rankingin all the major search engines.
Rules and particularities of .shop domain names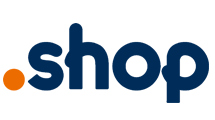 .SHOP domain names at Gandi.net
Accreditation: Gandi has been accredited by GMO Registry since March 2014.
Terms and Conditions
Assigning: .SHOP is open to everyone.
Syntax: from 1 to 63 alphanumeric characters or a hyphen (excluding in the first, third and fourth, and last place)
IDN (accented domain names): yes
Registration period: 1 year during both Sunrise and Early Access periods. 1 to 10 years during general availability,
Second-level extensions: No

Procedures
Renewal:
domains are deactivated upon expiration. It is possible to renew up to 45 days following the expiration date.
Disputes:
URS
and
UDRP
Transfer (change of Registrar):
the process is started on the new registrar's interface with an auth code. Ensure that your domain does not have a TransferProhibited status, does not expire soon, is older than 60 days and has not been transferred in the last 60 days. The effective transfer depends on your validation (by email) and renews the domain name for one year.
Change of Ownership:
available on our interface. The current procedure consists in email confirmation by both former and new domaine name owner. Expiration date is unchanged.
Deletion process:
quarantine of 30 days, see this
table
Frequently Asked Questions