Rules and particularities of .moi domain names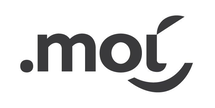 Registry technical operator
.moi domains at Gandi.net
Accreditation: Gandi has been accredited .bot since September 2023.
Terms and Conditions
Assigning: .moi domains are open to everyone.
Syntax: From 2 to 63 alphanumeric characters or a hyphen (excluding in the first and last place and third and fourth place).
IDN: Yes.
Registration period: 1 to 10 years.
Second-level extensions: No.
Procedures
Registration: To activate your domain, you will need to connect it to your Amazon account.
Renewal: Domains are deactivated upon expiration. It is possible to renew up to 45 days following the expiration date.
Transfer (change of Registrar): The process is started on the new registrar's interface with an auth code. Ensure that your domain does not have a TransferProhibited status, is older than 60 days and has not been transferred in the last 60 days. The transfer renews the domain name for one year.
Change of Ownership: Available on our interface, the procedure consists in email confirmation by both former and new domain name owner. The expiration date remains unchanged.
Deletion process: Quarantine of 30 days see this table.
Frequently Asked Questions